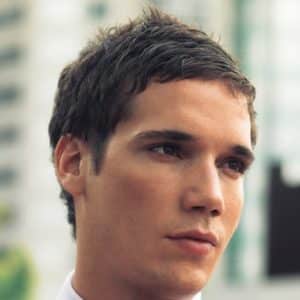 If there is one automobile event known to everyone, novices and enthusiasts alike, it is "Les 24h du Mans", a legendary race that culminates in the sporting season and is broadcast worldwide. "Le Mans" as the riders call it, is as unavoidable as it is feared because the stakes are so high for anyone who wants to be at the top of the podium.
A few days before its launch, we met Erwin Creed, a rider in the LMP2 category which allows teams/pilots to progressively reach the highest level and which is reserved for independent private teams. The opportunity to learn more about all its upstream preparation, its motivational levers, its path, and its eventful daily life between company manager (at the head of the world-famous perfume family business Creed), family man and sportsman.
You are a company manager and a father and husband, what place does motor sport have in your life?
For a few years now, it has been an important part of an already busy daily life! I first started karting again about 6 years ago, a sport I practiced very young, before making the transition to the car via Formula Renault, a discipline for access to motor sport where we find many drivers directly from karting. I then competed 3 years ago in LMP3 at Le Mans, a category launched in 2015 for access to the endurance discipline (LMP2) of the same championship. Then last year, my best friend suggested that I form a team to start in the LMP2 category together. Training has therefore intensified with regard to the various levels climbed, while effectively combining professional and family life.
How do you prepare for such a race?
There is no secret, it requires an almost monastic lifestyle for several months beforehand! Training is constant, regularity is the key. Sport must be almost daily, just like being careful about what you eat and drink, limiting alcohol as much as possible for example. I am very often on business trips, sometimes on the other side of the world, so I always take my sneakers with me and get up an hour earlier to go running. And once you arrive in front of the breakfast buffet, you continue on the same path by opting for fruit rather than pastries, as well as professional lunches where I am careful. Motor sport is very demanding, and injuries that happen quickly, so you have to put as many safeguards as possible in place, and good health, endurance, a strong physique, are undeniably part of it. Rigour is linked to the search for performance and is therefore not subjected but rather thought of as a lever. And when you see the results on the track, you know you've done the right thing!
What are your goals for this year in Le Mans?
Of course, we always keep in a corner of our head the dream of a podium, even if in our case it seems difficult. Unfortunately we are two "Bronze" pilots in the crew and we are not fighting on equal terms. However, we are at the top of the list in our category, which is a huge challenge for us. In motor sport, as in any sport at a certain level, you have to be a competitor at heart, and always expect more. Our goal this year is to surpass ourselves, while having as much fun as possible, all this – if possible – without breaking the bank!
Speaking of breakage, how's the equipment insurance going?
Personally, my family has been insured by PSPI for many years, so it was only natural that we decided to entrust them with the car insurance. Given their experience in special risks and the high quality of their claims management, this removes a burden and allows us to focus on the essential: management.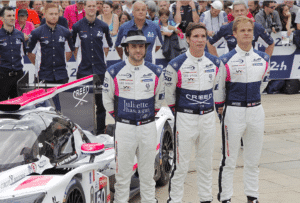 Erwin Creed in the middle and his teammates Romano Ricci and Nick Boulle
 PSPI team wishes the best to its customers participating in the 24 Hours of Le Mans this year!