We met Robert Kennedy this summer to talk to him about the very specific sector of investment in special assets such as diamonds. What exactly is his role? How does he advise investors? Who are these investors? And how does he deal with the problem of insuring this type of asset?
We'll let you find out in the exchange below.

1. Who are you Robert Kennedy ?
I started my career in diamonds at a Swiss diamond manufacturer. We specialized in large, high-end diamonds… it was the perfect environment for me to learn the trade. But I have to admit that my real passion for diamonds began the first moment I held a stone in the palm of my hand. After that, I feel like the world of diamonds opened and invited me inside. I consider myself fortunate to have the opportunity to work with some of the finest jewellery designers and some of the most reputable diamond houses on the planet.
2. "Swiss Diamond Collection decided to specialize in the finest diamonds the world has to offer". Could you please explain us more in details your job ?
I founded Swiss Diamond Collection in 2007, with the intent to specialize in procuring the finest diamonds the world has to offer. I was fascinated by the purity and eternal beauty of diamonds, and Swiss Diamond Collection was my way of putting that fascination into practice. For the past 30 years, I have been helping people make investment decisions and I look forward to many more years of the same. Engaging with clients—and suppliers—is a pleasure and it keeps my passion for diamonds alive. The business is rigorous—and demanding— but when I see the pure happiness that the right diamond can bring to the person who owns it and wears it, it makes the whole effort worthwhile.
Whether it's a unique stone you're looking for, or custom jewellery or even just a healthy return on your investment, an experienced advisor can work with you to meet your needs. Swiss Diamond Collection is that kind of advisor… you can trust us to make buying, managing and selling a diamond both simple and fun.
3. What type of clients do you have ?
Our clients range from family offices, ultra high-net worth investors, wealth managers and businesspeople. We've provided everything from simple valuations to holistic portfolio management. We are ready to adapt to the unique experience, time and management requirements of each investor, which might require advising on a single diamond purchase or constructing a complex, balanced portfolio. Most of our clients are from Europe and North America, but we hope to expand into Asia over the next few years.
I would say that, while most of our clients are family offices and UHNWI, there has been an increasing number of individual investors who have decided to diversify their portfolios with a modest diamond allocation. Investment diamonds start around CHF 20'000.-, so that's viable option for almost all investors.
4. In addition to the valuation of these assets, you offer a complete portfolio management. Compared to a more "standard" investment in the stock market, insurance is part of the investment here. How do you insure these valuable objects in order to guarantee the investor the best possible protection?
Good question! You're absolutely right—tangible assets like these demand an entirely different type of risk management. In the past, insuring diamonds was almost prohibitively expensive, but recently, boutique insurance companies that specialize in collectibles, fine art, even diamonds, have begun offering reasonably priced policies tailored to the unique risks of each individual collection.
To conclude, Fanny Eyraud, Director of PSPI, shares with us her opinion on the protection of these special goods that are diamonds:
"When one decides to invest in diamonds, it is imperative to think about protecting them well, by insuring them with specialized companies like PSPI. On the basis of an evaluation of the value, carried out by Robert Kennedy or, in our case, by our Fine Art specialist, we can then determine an insurance cover that will allow us to protect against theft, deterioration etc. This coverage can evolve according to the fluctuating values of these special items, and can be integrated into a "package" that includes all the items in the same collection (paintings, wines, leather goods, etc.)".
____________________________________________________________________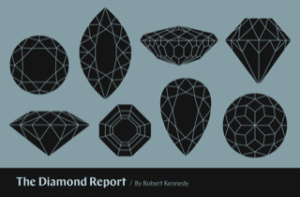 For more information on Robert Kennedy and his company Swiss Diamonds Collection : https://www.swissdiamondcollection.ch/
For more information on PSPI's collection coverage: https://www.pspi.ch/risques-speciaux/collections/